Apple's official public release of iOS 14 and iPadOS 14 dropped on Wednesday, September 16, just a day after the company released the Golden Master to third-party developers. Also set to be made available to the general public for the first time are watchOS 7 and tvOS 14.
In this article we run through everything you need to do to update your iPhone to the new software, including what to do if you encounter problems, like not having enough space or not being able to connect to Wi-Fi.
It's worth doing a bit of housework with your phone first, like making sure it's backed up, and clearing some space so that you have enough storage for the new update.
The update is available on all eligible devices (see below) over-the-air in the Settings app. To access the new software, go to Settings > General > Software Update.
Ideally, plug your iPhone or iPad into a power outlet
Go to Settings > General > Software Update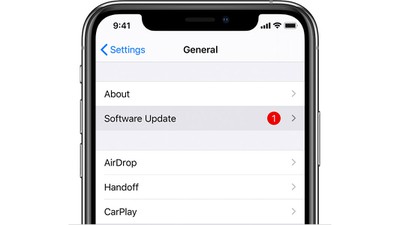 3. Assuming there is a new version available, tap Download and Install.
4. Enter your passcode when prompted, and agree to the terms & conditions if required.
5. Your device will download the update in the background. You'll see an indication of how much time it is likely to take – in our experience this is very far from the mark! Double it/triple it even! You can at least carry on with other things while the download happens. Once the download has finished you will receive a notification on your iPhone.
6. Now Tap Details on the Notification window. This will take you back to Settings > General > Software Update.
7. Tap Install Now. (Again, expect this step to take a while – especially if it's on the night the software arrives!)
Alternatively, you can select Later. iOS will offer to update during the night – you just need to make sure the device is plugged in.
How to download iOS 14 if you don't have Wi-Fi
Are you really excited about getting iOS 14 but don't have access to Wi-Fi right now? Or maybe you do, but it's hotel/restaurant Wi-Fi, and you aren't sure you can trust it (stay safe out there!). You might be wondering whether you can update iOS 14 using cellular data or mobile data?
Apple used to have a download cap that meant you couldn't download more than 200MB over a data connection. This cap was lifted in iOS 13, so you can now download apps of any size. Go to Settings > iTunes & App Store > App Downloads. You can choose from Ask If Over 200MB, Always Allow or Always Ask.
If you are still running iOS 12, you will still have the data cap meaning you can't download iOS 13 over data – but there is a workaround as long as you have a Mac.
Before you start – make sure you don't use up all your data for the month! Even unlimited data isn't always completely unlimited and you might be penalised later on.
To download iOS 14 using mobile data (or cellular data) follow these steps:
Create a Hotspot from your iPhone – this way you can use the data connection from your iPhone to connect to the web on your Mac.
Now open iTunes and plug in your iPhone.
Click on the icon in iTunes that represents your iPhone.
Click on Check for Updates.
Run through the options to download and install iOS 14.
Your Mac will proceed to download iOS 14 using your data connection from your iPhone. You will then be able to use iTunes to install iOS 14 on your iPhone.
Alternatively, if your Mac happens to be connected to the internet via Ethernet, or another way, you could download iOS using iTunes or the Finder in exactly the same way as above. (Note that when Apple resigned iTunes with the arrival of Catalina so from macOS Catalina the Finder manages things like software downloads).
How to download iOS 14 if you don't have space
Downloading via the Finder or iTunes is also a great way to install iOS 14 on your iPhone if you don't have enough space on your iPhone, so follow the steps above.
Alternatively, you could try these steps to make some more space on your iPhone.
Device Compatibility
‌iOS 14‌ is compatible with the same iPhones as iOS 13, including older devices like the original iPhone SE and ‌iPhone‌ 6s. ‌iOS 14‌ compatible devices are listed below.
iPhone 11 Pro
‌iPhone SE‌ (2020)
iPhone 11 Pro Max
iPhone 11
iPhone XS
‌iPhone XS‌ Max
iPhone XR
‌iPhone‌ X
‌iPhone‌ 8
‌iPhone‌ 8 Plus
‌iPhone‌ 7
‌iPhone‌ 7 Plus
‌iPhone‌ 6s
‌iPhone‌ 6s Plus
‌iPhone SE‌ (2016)
iPod touch (7th generation)
Will iPhone update erase my data
Understandably, if you are low on space you may be worried that you will lose some of your data if you install the new iPhone update. It's understandable that some people are concerned about this because it has happened in the past. However, it should be the case that once the iOS 14 update has installed all your data will be intact, and if it isn't, well you have a backup, don't you?
For more tutorials, visit our How To section.